Levels 1 & 2 Create A Hair and Beauty Design Competition
Over the past few weeks, our level 1 and 2 Hair & Beauty students wowed the judges with their amazing skills during the "Create a Hair & Beauty" design competition. Over 25 students from each level took part in the competition with the aim of creating a look coordinating costumes and makeup based on fantasy and futuristic themes.
Level 1
Our level 1 learners delved into the world of fantasy and recreated some of the world's most famous literary characters.
Tutor Nicola Thomas comments "The level of competition this year was off the scale, all our learners worked extremely hard which is evident in the fantastic looks produced. I am very proud of them all"
1st place certificate was awarded to Caitlin Cross for her Mad Hatter inspired hair and beauty image. Caitlin Cross, who previously studied at Pen Y Dre High school, recreated the iconic character The Mad Hatter from the famous Lewis Carroll book Alice Adventures in Wonderland.
Caitlin Cross, awarded 1st place for her Mad Hatter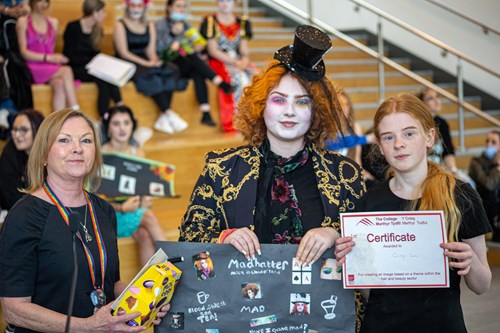 Emily-Mai Lewis, former Ysgol Gyfan Rhydywaun pupil, was awarded 2nd place for her Maleficent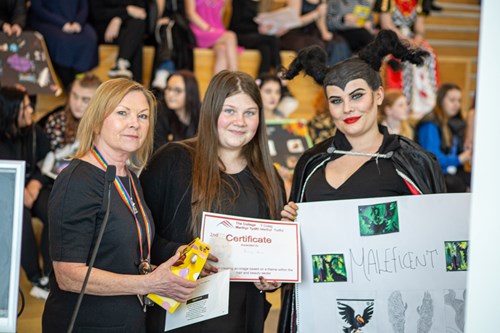 Tia Price, former Cyfarthfa High school pupil, was awarded 3rd place for her Day of the dead Tia Price
Level 2
 Our level 2 learners were tasked with creating a futurist hair & beauty image. 1st place was awarded to Jade Morris, former St John Baptist pupil, for her The Hunger Games character Effie Trinket inspired look.
Jade Morris commented "I found my inspiration from Effie Trinket from The Hunger Games as her looks are always so extravagant. I'd like to say a big thank you to my model Claire for being a fantastic model for my design. I'd also like to thank my family for being supportive of me in the run-up to the competition including my mother Diane Morris I can't wait for the next one in May!"
Jade Morris, awarded 1st place for her futuristic look.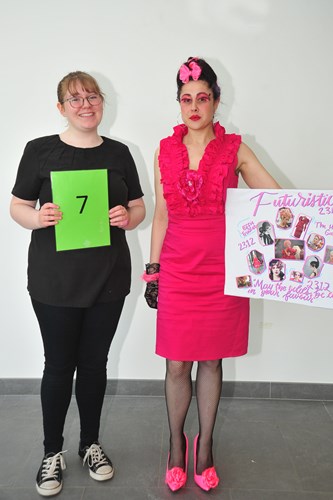 Tiana Andrews, Former Afon Taf High school awarded 2nd place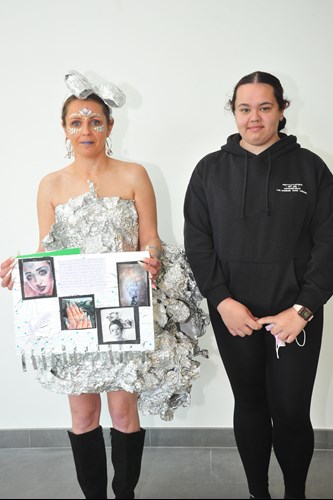 Lara Silva was awarded 3rd place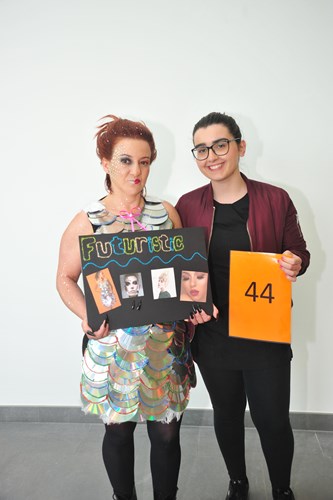 Head of Hair and Beauty, Amanda Wilde, commented "I would like to congratulate each and every one of the students. The level of thought and effort that has gone into these designs is evident and is testimony to the hard work of both the students and the tutors"