The College Merthyr Tydfil - your number one choice for further education!
Good luck to everyone awaiting their final GCSE and level 2 results on 12th August. 
If you are thinking of progressing on to further education this September, the college is here for you! 
With a choice of over 100 courses from A levels through to vocational courses, excellent success rates, outstanding learner and pastoral support and a fantastic enrichment and work experience programme, now has never been a better time to study at our award winning college.
Whether you know what you want to study or not, our expert team of admissions advisers and subject tutors are here to help and advise you on course options and ensure that you are placed on the right course for you.
Or mission is very much about transforming lives through working in partnership and we work closely with local employers, universities and external organisations to ensure that our learners have access to the very best, industry relevant and future skills based curriculum,  teaching and learning, support, resources and enrichment programmes, enabling you to achieve your desired qualification and progress successfully on to further or higher study or employment.
Our results and outcomes are testament to this. For the last seven consecutive years we have achieved a 99% A level pass rate – making us one of the top performing college's in Wales!
We have also achieved excellent outcomes across our vocational and apprenticeship courses, with many areas achieving 100% success rates – so you can be guaranteed that whatever course you choose you will receive the highest quality teaching and learning experience.
Maidie Hope Davies has just completed her A levels at the college. Maidie, a past pupil from Afon Taf High school, achieved an A and 3 Bs. She commented "I have thoroughly enjoyed my time at college as I could study the subjects I was most interested in, to get into my chosen career path. Even though the past year has been tough with online learning, I feel as though the college has provided us with great support to improve our working grades by keeping online learning as interactive and engaging as possible. My plan is to continue my academic journey at Exeter university, studying Marketing and Management, which would not have been possible without the encouragement and support of the business department at the college. I would highly recommend the college to anyone thinking about progressing on to further education this September.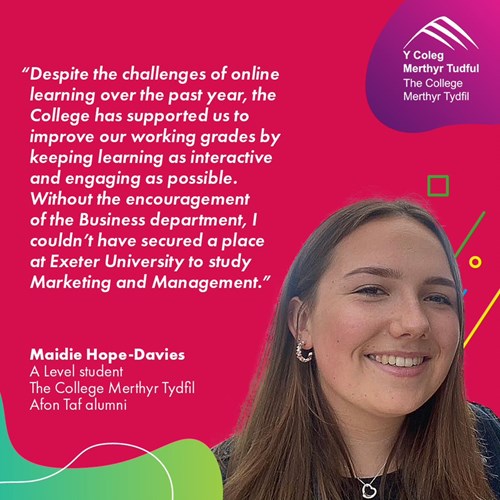 Don't delay, take that next step towards your future career pathway and apply now by visiting www.merthyr.ac.uk or ringing and speaking to one of our admissions team on 0800 1693825.