As you may be aware, In February, the Welsh Government announced a phased return to schools and colleges, commencing with small groups of construction, engineering and motor vehicle learners being brought in to complete their practical assessments from 22nd February and further groups of learners being brought in for the two-week period leading up to the Easter holidays (from Monday 15th March through to Friday 26th March).
Building upon this, we have now received further guidance regarding the arrangements for the delivery of learning from Monday 12th April 2021.
In line with this guidance, the college is pleased to be able to tell you that we will be resuming the timetable arrangements we had in place during the autumn term.
What does this mean for me as a learner?
This means that, from Monday 12th April, you will follow the course timetable that you had in place prior to Christmas. For many of you, this will mean that you will come back in to college for some face to face lessons whilst continuing to have some lessons on-line and remotely. Your Course Tutor will be in touch with you to confirm your timetable and let you know the arrangements for the first week back.
Please note that it is vitally important that you attend your face to face lessons as per your timetable so that you are able to complete any work and class based assessments to support you to complete your qualification. This will help ensure that you get the best grade possible to help you progress successfully on to the next stage of your studies or into your chosen career pathway.
What if I'm feeling anxious about returning?
If you are feeling anxious about returning, please speak to your college tutor who can go through and explain all of the health and safety measures we have in place to support and protect you at college.
We want to reassure you that your health and safety is of our utmost concern. We have put into place all of the necessary health and safety procedures and risk assessments to ensure that you are brought back into college in a Safe and managed way, including implementing clear 2m social distancing measures outside of the classroom and between staff members and learners, keeping all learners within their subject bubbles, implementing one way directional signage to minimise the risks of staff and learners having to cross each other in key circulation areas and ensuring that we have hand sanitising stations available across all areas of the college.   
In addition, there is also a requirement for you to wear a face mask at all times across the college building, including in classrooms, workshops, IT rooms and key circulation areas as a further safety measure. If you do not have a face mask, one will be provided to you when you arrive at college. Please note that, unless you are medically exempt from wearing a face mask, you must wear one at all times. Failure to abide by this could result in you being removed from your class and having to attend a Learner Disciplinary meeting.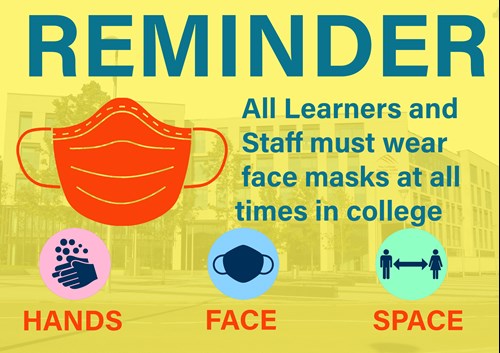 Lateral Flow tests
In addition to all of the safety measures put into place, we will also be offering all learners the opportunity to take part in Voluntary lateral flow testing. This testing will allow us to take further measures to help you, other learners and staff to continue learning and working in as safe an environment as possible. Up to one in three people who have COVID-19 have the virus without symptoms so could be transmitting the virus unknowingly. Lateral Flow Device (LFD) tests have been widely and successfully used to detect COVID-19 in asymptomatic individuals and engaging in this process will help us in the fight against this virus. Guidance on the lateral flow testing process is attached to this email for you. If you would like to take part in the testing, please:
Ensure that your parents have completed the CONSENT FORM here: https://bit.ly/2Pagucp (If you are aged under 18 years old)
Collect your testing kit from the main college reception desk
Undertake the tests on a Monday and Wednesday morning as per the instructions provided
Report your test results to the NHS track and Trace form and the college form here: https://bit.ly/3cj422X as per the instructions provided
 Preparing for a return back to normal college timetables and face to face learning  
 Learner Guidance

We have circulated a copy of our learner guidance which has been put together to provide you with all of the important information you need to know before you return to college. Please do take the time to read through the guidance to familiarise yourself with how the college environment will look when you arrive back and what you need to do on that first morning you arrive. It is really important that you are aware and follow safety guidance and instructions we issue, to protect yourself and protect others.
Transport
The College Bus Service from Brecon and Bedlinog will run as normal from Monday 12th April. Please note that masks must be worn at all times on the buses.
Arriving on campus

When you arrive on campus for your first session, please ensure that you enter via the main entrance doors and make your way to the classroom that you are in as per your timetable.  
Canteen facilities
Canteen facilities will be available for you to purchase drinks and snacks and hot meals during your time at college
 Learner Support and Wellbeing services available for you 
Members of our Learner Support and I2A teams will be on-site to offer face to face support, should you have any queries or concerns or require any additional learning need support, when you are in. Please also remember that the full range of learner support services remain available for you to access remotely to provide any support that you require to help you with your return to college.
Any questions? 
In the meantime, if you have any questions on the above or the planned return, please email me: l.jones@merthyr.ac.uk  or speak to your tutor directly.
Thank you for your continued efforts and participation in your learning and we hope that you all have a good Easter break.
Keep well and stay positive. We look forward to seeing you very soon